MATERIALS REFERENCE
ELECTRONIC MATERIALS & TOOLS

Coin cell battery
A 3-volt battery whose code name is CR2032. This code means that the
battery is 20mm in diameter and 3.2mm thick. Flat, round batteries like
these are called coin or button cell batteries because of their shape.
Where to buy? Online retailer like Amazon. Sparkfun sells this battery, product #338, but its slightly more expensive.
Approximate cost: $0.50




LilyPad coin cell battery holder
A sewable battery holder for the CR2032 coin cell battery.
Where to buy? https://www.sparkfun.com/products/11285
Approximate cost: $6.00
Alternate options: If you want to make your own battery holder out of fabric you can find a tutorial here: http://www.kobakant.at/DIY/?p=52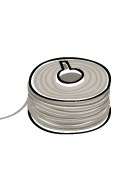 Conductive thread
A thread capable of carrying electric current. The thread referred to in this book is a stainless steel thread spun from fine stainless steel wires. Other types of conductive thread include silver-plated threads and gold-wrapped embroidery threads.
Where to buy? https://www.sparkfun.com/products/10867
Approximate cost: $3.00
Alternate options: You can purchase silver-plated thread from Fine Silver Products: http://www.fine-silver-productsnet.com/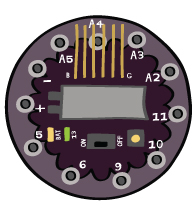 Lilypad Arduino SimpleSnap
A small snap-on computer. This programmable LilyPad Arduino board
contains an ATmega328 microcontroller and a built-in rechargeable battery.
For more information see: http://lilypadarduino.org/?p=289
Where to buy? https://www.sparkfun.com/products/10941
Approximate cost: $30.00
Alternate options: You can use any other LilyPad Arduino board to replace the SimpleSnap and Protoboard combination. For more information see: http://lilypadarduino.org/?cat=4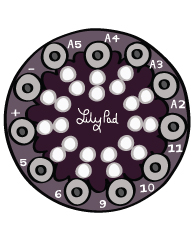 Lilypad Arduino Protoboard
A sewable board with a ring of male snaps on its outer edge that mates with the LilyPad Arduino SimpleSnap. Sew this board to your project to be able to snap the LilyPad Arduino SimpleSnap on and off of it.
Where to buy? https://www.sparkfun.com/products/10940
Approximate cost: $10.00
Alternate options: You can replace the protoboard with sew-on snaps (size 1/0) or riveting snaps (size 10). For more information see: http://lilypadarduino. If you use a LilyPad that is not the SimpleSnap, you do not need a Protoboard at all.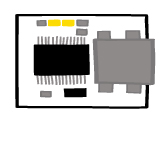 FTDI Breakout board
The board that connects a LilyPad Arduino board to a computer so that it can be programmed.
Where to buy? https://www.sparkfun.com/products/10275
Approximate cost: $15.00
Alternate options: You can replace the FTDI Breakout Board and USB cable with an integrated FTDI cable: https://www.sparkfun.com/products/





LilyTiny
A tiny sewable computer that is programmed to control LEDs. This board is powered by an ATtiny85 microcontroller. For more information see:http://lilypadarduino.org/?p=523
Where to buy? https://www.sparkfun.com/products/10899
Approximate cost: $7.00




Lilypad Speaker / Lilypad Buzzer:
A small sewable speaker.
Where to buy? https://www.sparkfun.com/products/8463
Approximate cost: $8.00




Lilypad LED
A small sewable LED (light-emitting diode).
Where to buy? https://www.sparkfun.com/products/
Approximate cost: $1.00




Alternate options: You can replace LilyPad LEDs with standard "through
hole" LEDs. Simply twist their legs into sewable loops.
You can purchase through hole LEDs from your local Radioshack or
sparkfun: https://www.sparkfun.com/products/9590


Mini-USB Cable
A USB 2.0 A to Mini-B Cable. The cable that connects the FTDI Breakout Board / Programming board to your computer. This type of cable is used to connect many cameras and cell phones to computers and chargers. Check to see if you already own one before you buy a new one.
Where to buy? Online retailer like Amazon. Sparkfun sells a red USB cable, product #598.
Approximate cost: $5.00
Alternate options: You can replace the FTDI Breakout Board and USB cable with an integrated FTDI cable: https://www.sparkfun.com/products/