SEW AND STUFF YOUR MONSTER
Now that all of your monster's electronics are sewn on and tested, you can stitch the monster together!
Using the (non-conductive) embroidery thread, continue stitching the monster's two sides together along the outside edge of the monster until about 2" (5cm) of space remains open. Leave your embroidery thread uncut.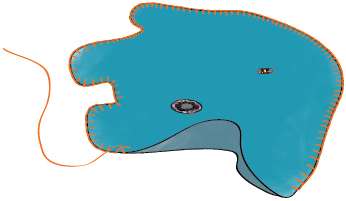 Stuff the inside of the monster with polyester filling until it's full. Stitch up the rest of the seam, so that your monster is completely enclosed. Tie off the embroidery thread, and snip the ends off.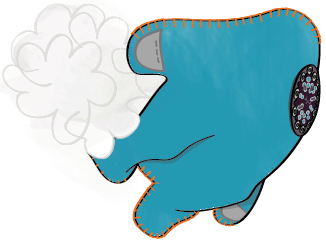 Glue on the monster's eyes, mouth, claws, and other features.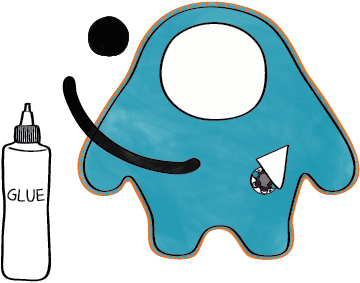 PLAY!
If your LilyPad is not attached to your monster, snap it on now. Unplug the Lily- Pad from your computer and turn it on.
Squeeze your monster, hold its hands, and listen to it sing! Take it into a dark room to see how bright and blinky it can be. Take it for a walk. Invite your friends over for a slumber party. Enjoy your new friend!

WASH
If your monster gets dirty, you can wash it by hand in cold water. Snap the LilyPad SimpleSnap off of the monster first to keep the battery dry!

RECHARGE
If your monster stops working, its battery has probably died. Attach your LilyPad to your computer to recharge the battery.