A UNIQUE INTRODUCTION TO PROGRAMMING AND ELECTRONICS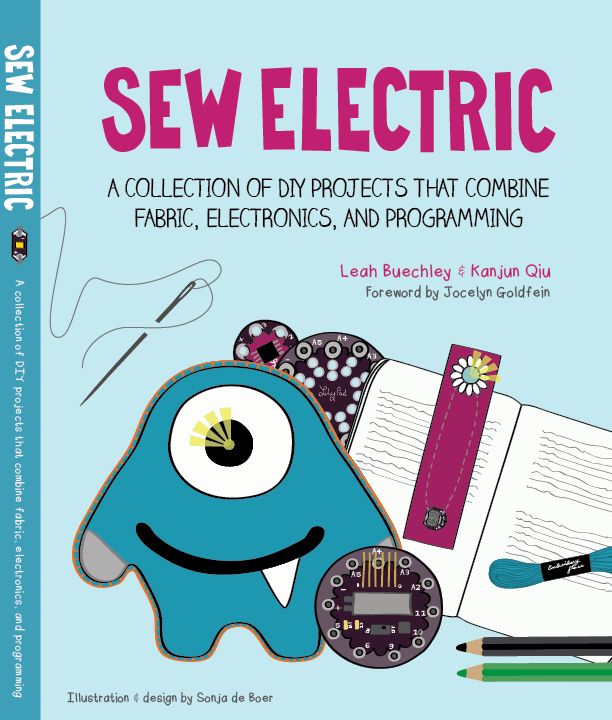 If you're interested in interactive toys, smart accessories, or light-up fashions, this book is for you! Sew Electric is a set of LilyPad Arduino tutorials that brings together craft, electronics, and programming. The book walks you through the process of making a series of quirky customizable projects including a sparkling bracelet, a glow in the dark bookmark, a fabric piano, and a monster that sings when you hold its hands. Play with cutting-edge technologies and learn sewing, programming, and circuit design along the way. It's a book for all ages and a great way to introduce girls to engineering. Explore the projects with your friends, your parents, your kids, or your students!
Get a book!
Explore the projects online
Visit us on Facebook
WHAT PEOPLE ARE SAYING ABOUT SEW ELECTRIC
Sew Electric combines craft, electronics, and programming and presents them in a wonderfully clear but whimsical way. The delightful projects should engage kids and adults of all ages. I wish I had this book when I was growing up, but I'm glad it's not too late for me to play!
– Joi Ito, Director, MIT Media Lab
I wish I'd had this book when I was young. I didn't figure out until college that designing and building software would satisfy the same creative urge as the sewing and art projects I did when I was younger. Bringing together craft and technology makes so much sense! Sew Electric will inspire the next generation of designers and engineers to dream big from early on.
– Jocelyn Goldfein, Director of Engineering, Facebook
With this book, Buechley and Qiu break new ground. One of the best educational resources I have seen in recent years — easy to understand, gorgeously designed, and showing a deep respect for young people's ideas and intellectual passions.
– Paulo Blikstein, Director of the Transformative Learning Technologies Lab, Stanford University
The brilliance and beauty of this book are in the incredibly welcoming tone and the creatively engaging approach by which electronic and craft materials and processes are presented, building on each other in tangible, inspirational combinations that will excite and empower the maker in every reader.
– Kelly Dobson, Head of the Digital + Media Department, Rhode Island School of Design
Leah Buechley has been a leader in the field of e-textiles since she introduced the LilyPad Arduino. With this new book, she and Kanjun Qiu have combined forces to inspire and inform the next generation of makers. Whimsical and wonderful examples take the reader through the entire making process, including avoiding pitfalls that other books gloss over. I've shared Sew Electric with my colleagues at the Exploratorium and we all agree that it is sure to become a treasured resource in the Tinkering Studio.
– Karen Wilkinson, Director of the Tinkering Studio, The Exploratorium

LEARN MORE
Join our mailing list to stay updated and learn about Sew Electric workshops in your area, where we'll teach you to build these interactive projects, and more!